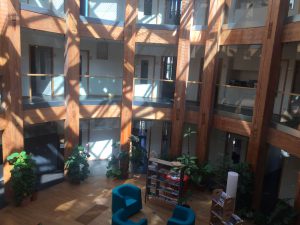 Néosylva was created in 2017, from a simple thought: the wood-forest sector constitues a major opportunity to create social value, yet it is still highly undervalued.
To address this situation, renewing our forests is essential, along with a better cooperation with wood sector companies and a higher appreciation of our forests functions.
Until the en of the 1990's, the National Forestry Fund (Fonds Forestier National) played a crucial role towards forest owners and helped create the wood ressources we know, which provides the sector nowadays.
However, since its disappearing the 440 000 employees wood sector is at stake, with an annual 7 billion € deficit. Moreover, the lack of forest management affects our territories, already threatened by climate change.
To answer these issues, Néosylva developed a new and efficient method inspired by its founder experience, Jean-Guénolé Cornet, and supported by an increasing number of contributors.
Néosylva's headquarters are in the midst of Pays de la Loire's wood-forest industry, at bâtiment B in the heart of Nantes.